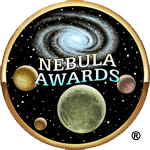 It takes a lot for me to feel like the little guy. I'm over six feet tall and not exactly waifish. Professionally, I've held my own conducting interviews with politicians and CEOs for many, many years. I've had Steve Ballmer yelling at me a bare foot away from my face, and broke down in laughter with Jeff Bezos after a particularly fun grilling.
But here, at the Nebula Awards Weekend, I was most certainly the little guy. And it was pretty cool.
As part of my volunteer duties, I helped babysit the press room. And there was a moment yesterday where I'm sitting there while Sword & Laser interviewed the legendary (and truly wonderful) Gene Wolfe, with Nebula nominee Kim Stanley Robinson listening intently nearby, and John Scalzi and Mary Robinette Kowal hovering by the door, also eavesdropping.
And I'm just this newbie, you know? I don't fanboy much, but it was a great moment.