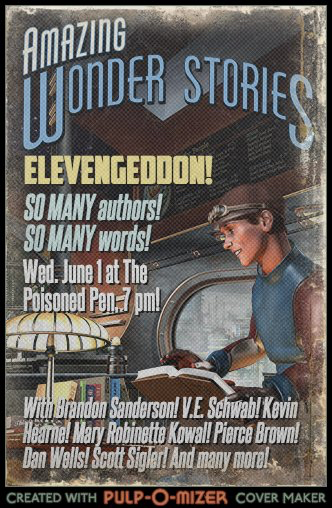 If you like SF/F books and are less than a half-day's journey from beautiful Scottsdale, Ariz., you are officially out of excuses — Elevengeddon is coming to the Poisoned Pen tomorrow night, and you need to be there.
Why? Because while the -geddon was officially set at Eleven, we now have twenty-one authors descending on this hapless bookstore. The event kicks off on June 1 at 7 p.m. at the Poisoned Pen, 4014 N. Goldwater Blvd, Scottsdale, Ariz. Here's the calendar listing. And as for that aforementioned twenty-one authors, they are:
Michael J. Martinez (hey, that's me!)
That's s a veritable flock, a slew, a plethora, a bar tab full of authors. A critical mass of science-fictional and fantastical awesomeness crammed into one bookstore. How could you not be there?
It's gonna be huge — the store is already expecting at least 300 people, if not more. In order to keep things moving, the Poisoned Pen is going to issue wristbands for folks so they can get folks in and out of there. They'll start handing out wristbands at 6 p.m., and each wristband will get you 45 minutes in the store to have your books signed. (i.e. the first batch of folks go from 7-7:45 p.m., the next batch is 7:45-8:30 p.m., etc.) That way, nobody has to wait around forever in line. Get your wristband, and then go grab a bite to eat or something until it's your time.
That said, we're not going to leave anybody hanging. You want books signed? We'll sign your books, no matter how long it takes. Fans are awesome, and we appreciate you immensely.
Also, it should be noted that Pat and Brandon will only be signing three books per person. Otherwise, their hands will just fall off, and then they couldn't type any more books for you.
So if you're in town for Phoenix Comicon, or if you live in the area, or you feel like taking last-minute road-trips, head on over to the Poisoned Pen tomorrow night!
#SFWApro