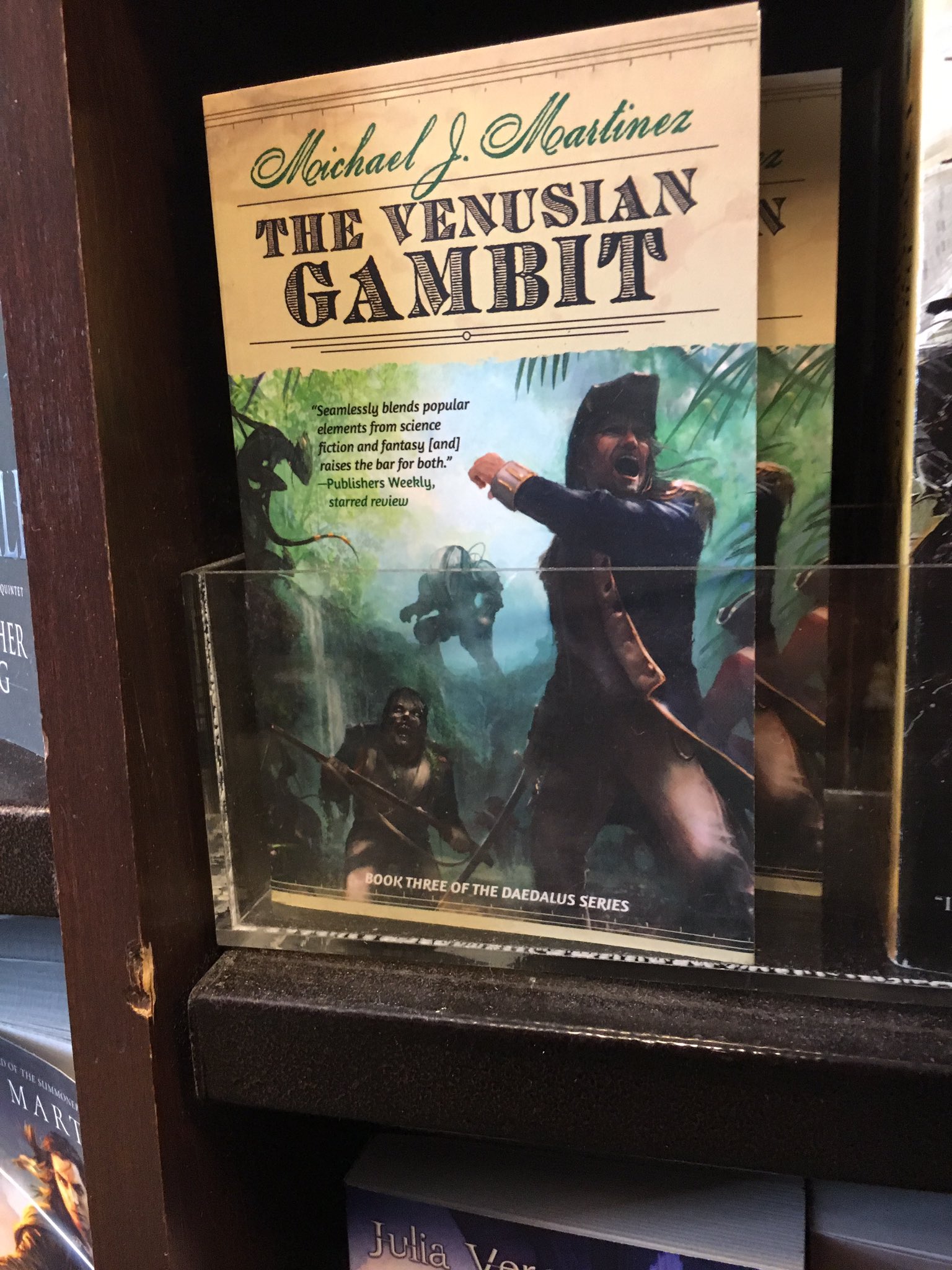 As is now tradition, I went to a bookstore — this time, the Barnes & Noble on 5th Avenue in Manhattan — to sign a new release: The Venusian Gambit, officially out today in mass-market paperback! Never really gets old to see one's books in a store.
(In fact, there are signed copies of Gambit as well as The Daedalus Incident at that very store now, if you happen to be around midtown!)
The Venusian Gambit wraps up the Daedalus trilogy with an epic clash between the forces of the Martian warlord Althotas (and his dupe, Napoleon) and the combined efforts of now-Admiral Thomas Weatherby and Commander Shaila Jain. Plus, as you might discern from the cover, there are aliens and zombies and a mech.
You might also take note of the snippet of the starred review from Publishers Weekly, which was really very wonderful. It's available now from Amazon, Barnes & Noble, IndieBound, Books-A-Million,Kobo, iTunes, and Google Play.
In addition to getting Gambit in a less expensive and cumbersome format, you'll also get a brand-new excerpt from MJ-12: Inception in the back. This one deals with a young woman named Maggie Dubinsky, a former schoolteacher whose sudden Enhancement became far too burdensome to bear. Yet despite her fears and scars, the agents of MAJESTIC-12 have nonetheless sought her out for recruitment….
Very excited to see Gambit out in the wilds again, and doubly so for everyone to read just a bit more about MJ-12: Inception. The new paranormal Cold War spy series kicks off Sept. 6 in hardcover; you can pre-order it at  from Amazon, Barnes & Noble, Books-A-Million, Mysterious Galaxy, Borderlands Books, Apple iBookstore and/or through your local bookstore via Indie Bound.
#SFWApro